Head Coach
Chris Whalley,
Camp Director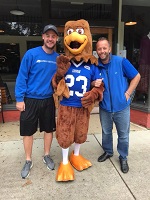 Chris Whalley enters his third year at the helm of the Chowan University men's soccer team.

The 2015 season saw the program reach new heights. The Hawks posted an 11-7-5 overall record with the team capturing the NCCAA South Region Championship title for the first time in program history. The squad also made their first-ever appearance at the NCCAA National Championship.

The Hawks had four NCCAA All-Tournament honorees as well as four NCCAA All-Region honorees. Most notably, Terell Williamson was tabbed to the NCAA Commissioner's All-Atlantic Region Second team along with NCCAA Player of the Year honors.

Whalley took over the reins of a Hawks' program that finished 1-14 in the 2013 season. In his first year as head coach, Whalley guided the Hawks to a 12-8 record, which tied the season win record for the team and is the most wins for the team as a NCAA Division II program.

Whalley was awarded ICAA Coach of the Year and a multitude of his players earned accolades, including ICAA Player of the Year and Freshman of the Year, four ICAA Team honors, three NCCAA All-Region Team honors, three NCCAA All-Tournament honors, two Daktronics All-Region Team honors, one ICAA First Team honor, one Daktronics/Division II Conference Commissioner's All-America Second Team honor, two NCCSIA All-State Team honors, and an NCCAA Scholar–Athlete honor.

Additionally, after posting a 1-14 record in 2013, the Hawks' 12-8 mark in 2014 was the most improved record among NCAA Division II institutions.

Whalley has guided the men's soccer program to two consecutive NSCAA Team Academic Awards (2014, 2015).

Prior to Chowan, Whalley served as an assistant coach at Appalachian State University for two seasons. He assisted with all facets of the men's soccer program including booster and alumni relations while guiding the Mountaineers to the SoCon quarter and semifinals in 2012.

Before his stint at Appalachian State, Whalley developed training plans and worked with elite level soccer players in Wisconsin as head coach of the FC Milwaukee Nationals of the US Development Academy. Whalley also spent three seasons as head coach at the University of Wisconsin-Milwaukee where he doubled the squad's win total from the previous regime and led the team to an upset of nationally ranked Northern Illinois in 2011, marking the first win over a ranked team since 2006. He had three student-athletes go on to receive professional contracts while the team cumulative grade point average improved to over 3.0.

Before coaching at Wisconsin-Milwaukee, Whalley spent the 2005-2010 seasons at Lees-McRae College. He turned a struggling men's soccer team into a regionally and nationally recognized program. Whalley accumulated a 77-22-10 career record at Lees-McRae and guided the Bobcats to a #1 National Ranking in 2009 and NCAA National Runner-Up finish that same season. Whalley guided Lees McRae to regular season Conference Carolinas titles in 2007, 2008 and 2009 and Conference Carolinas tournament championships in 2007 and 2008. His winning percentage of .78 is the best in Lees-McRae soccer history. Whalley remains ranked 5th among NCAA Division II college coaches and 23rd among all college coaches in career winning percentage. He coached 14 All-Americans and 32 All-Region players during his tenure while earning NSCAA Regional Coach of the Year accolades in 2007 and Conference Carolinas Coach of the Year honors in 2007 and 2009.

In addition to his post with the Bobcats, Whalley served as the head coach of the West Virginia Chaos in the USL Premier Development League and also served as selection chairperson for Division II MLS in 2009. He played collegiately at Mercyhurst College where he helped lead the Lakers to the NCAA Division II tournament and an NCAA Final Four appearance in 2002. He was part of two GLIAC championships in 2001 and 2002 and was named First Team All-GLIAC in those same seasons. He also played professionally for the Reading Rage and United Soccer League in 2003-2004.

Whalley and his wife, Alexis, reside in Suffolk, V.A. The two have an infant son, James Jack.